My cover is blown.... no sense in hiding it..... I am turning 40 in a few weeks. While I am mostly ok with it (I truly feel age is just a number), I am starting to notice that I am indeed aging. Besides not being able to eat or drink everything I want without repercussions, I have noticed that my skin is changing. It's becoming more dry and I am seeing the "fine lines and wrinkles" that are in all the advertising for women these days.
I decided that it was time to really start taking care of my skin - more so than just using whatever cleanser I could get my hands on and some moisturizer from time to time. The problem was - there are SO MANY options.... and I was overwhelmed to even start. Luckily, while poking around on local beauty groups I found Lynnze at The Perfect Peach Wax and Skin Company in Friendswood. I knew the instant that I called her, that she was someone that was very knowledgeable and would customize a plan just for me - plus she is a mom too!
Lynnze had me come in for a free consultation and we decided to do my first treatment on the spot. I had the first time client intro treatment that included dermaplaning. Dermaplaning uses a medical grade scalpel to gently remove dead skin , makeup and hair that is built up on the skin. It also allows for better product absorption too - so Lynnze did it before my facial. It was actually very relaxing - and WOW did my skin feel AMAZINGingly smooth after!
Dermaplaning is beneficial for practically anyone minus those struggling with acne (there is actually another treatment that is done in place of dermaplaning for those with acne). Also to squash is rumors -- Dermaplaning does not make your hair grow back thicker! Dermaplaning is not going to change the consistency in which your hair grows if you have peach fuzz it's going to grow back peach fuzz. The ladies at The Purple Peach have been dermaplaning women for many years in their skin clinic and we would never recommend it to anyone if it made their hair grow back thicker!
Check out this example (disclaimer - this is not me.... but WOW)!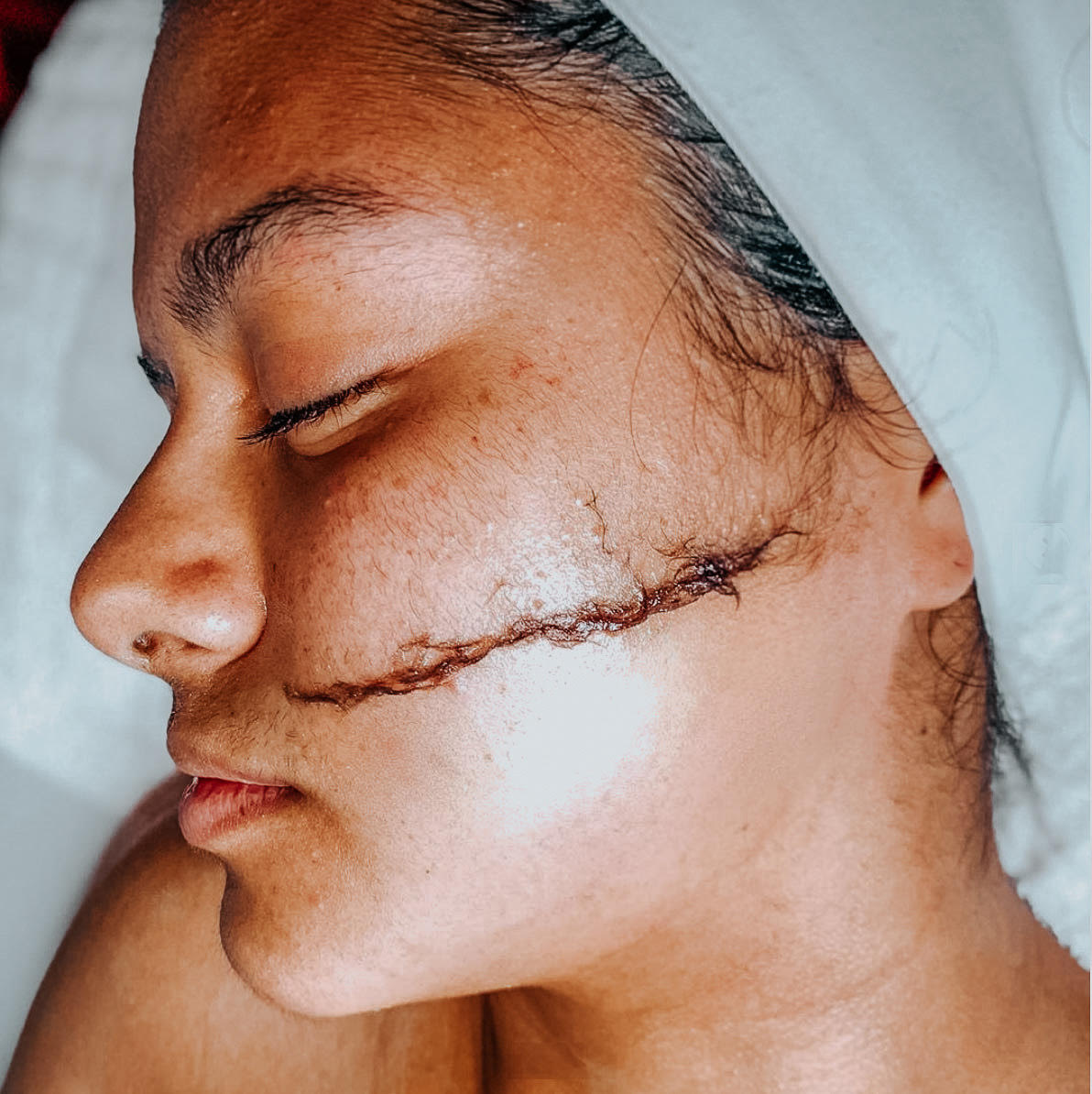 After the dermaplaning, Lynnze then followed with a custom fruit based enzyme facial for a gentle exfoliation and then performed extractions. To finish the treatment she then infused a custom blend of anti-aging serum into my skin and sealed it in with a hydro jelly mask! This treatment is perfect for any one looking to start their skincare journey, monthly treatments are recommended for optimal results!
After my amazing facial - Lynnze introduced me to several products to start using consistently.... I have been using them for about a week now and I can already see a huge difference in my skin. I will be featuring a product or treatment once a month - and can not wait to share with you all!
For Scheduling an appointment for skincare or waxing please reach out to: